ANSI Z359.14 LEADING EDGE: WHY UNDERSTANDING STEEL TEST PLATE DEFORMATION IS ESSENTIAL
The ANSI Z359.14 standard dictates design and testing requirements for leading-edge self-retracting lifelines. The standard has evolved as workplace practices evolved, hazard knowledge develops, and innovative and safer products are developed. For example, the leading edge dynamic performance test language remained constant from 2012 to the 2014 standard, save one key change: the sharpness of the steel-edge on which the drop testing occurs. The 2012 standard did not expressly articulate edge-sharpness, whereas in 2014, the ANSI/ASSE Z359 standard committee added language requiring that the edge must have a maximum 0.005" radius edge (imagine razor blade sharp). This value is intended to represent the sharpest edge that structural steel may have in the field.
During ANSI compliant leading-edge testing of self-retracting lifelines, the line constituent (cable or web) of the device strikes the 0.005" edge with enough force that the edge is damaged and effectively dulled with a single drop. To comply with the standard, this edge needs be replaced for every drop test. This is one simple example illustrating the importance of understanding how subtleties within the testing standard, like steel test plate deformation, are important to delivering an ANSI Leading Edge compliant product to market.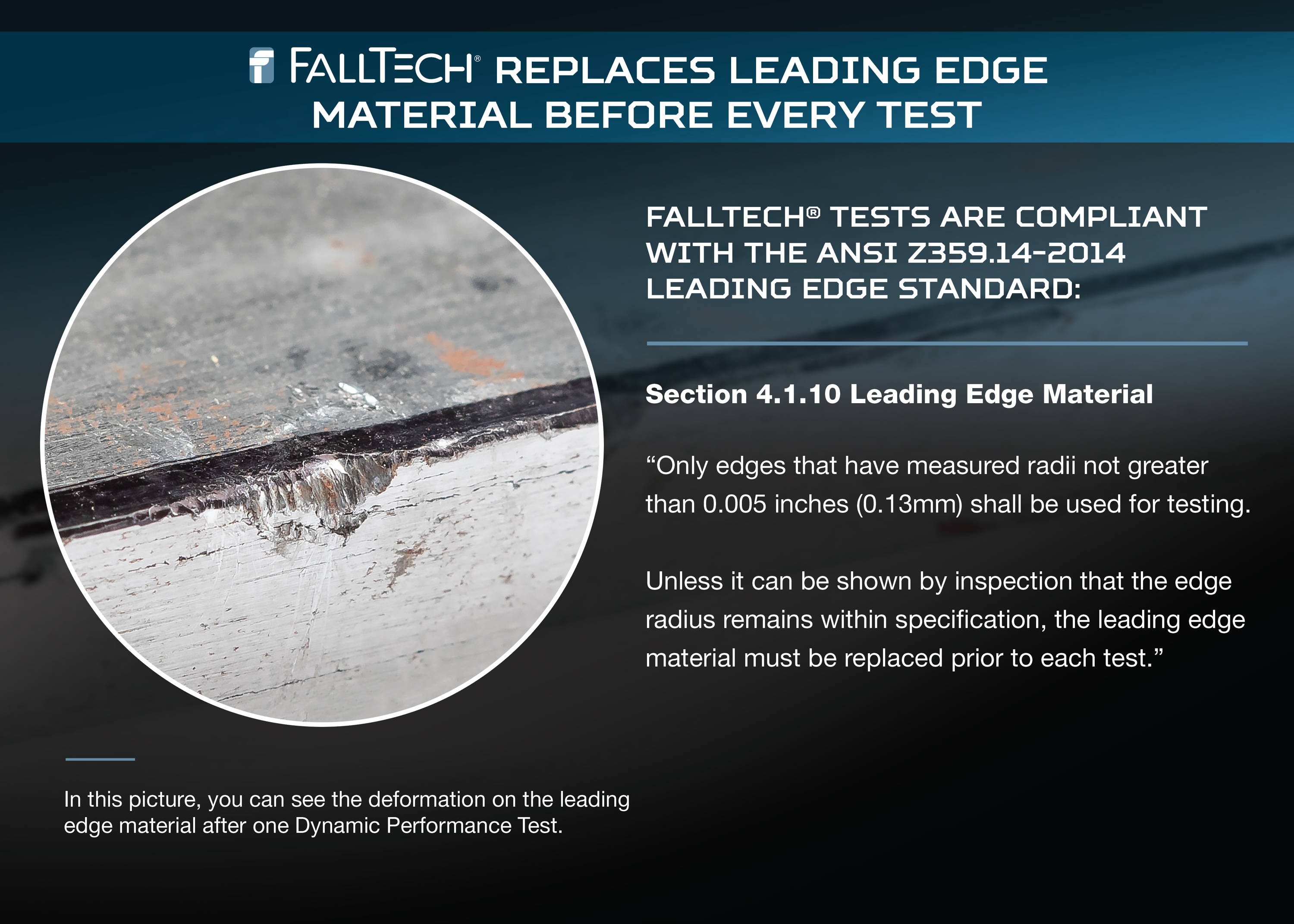 IMPORTANCE OF LEADING EDGE SET BACK DISTANCE IN FOOT LEVEL SRL-LE APPLICATIONS: 0 FEET VS. 5 FEET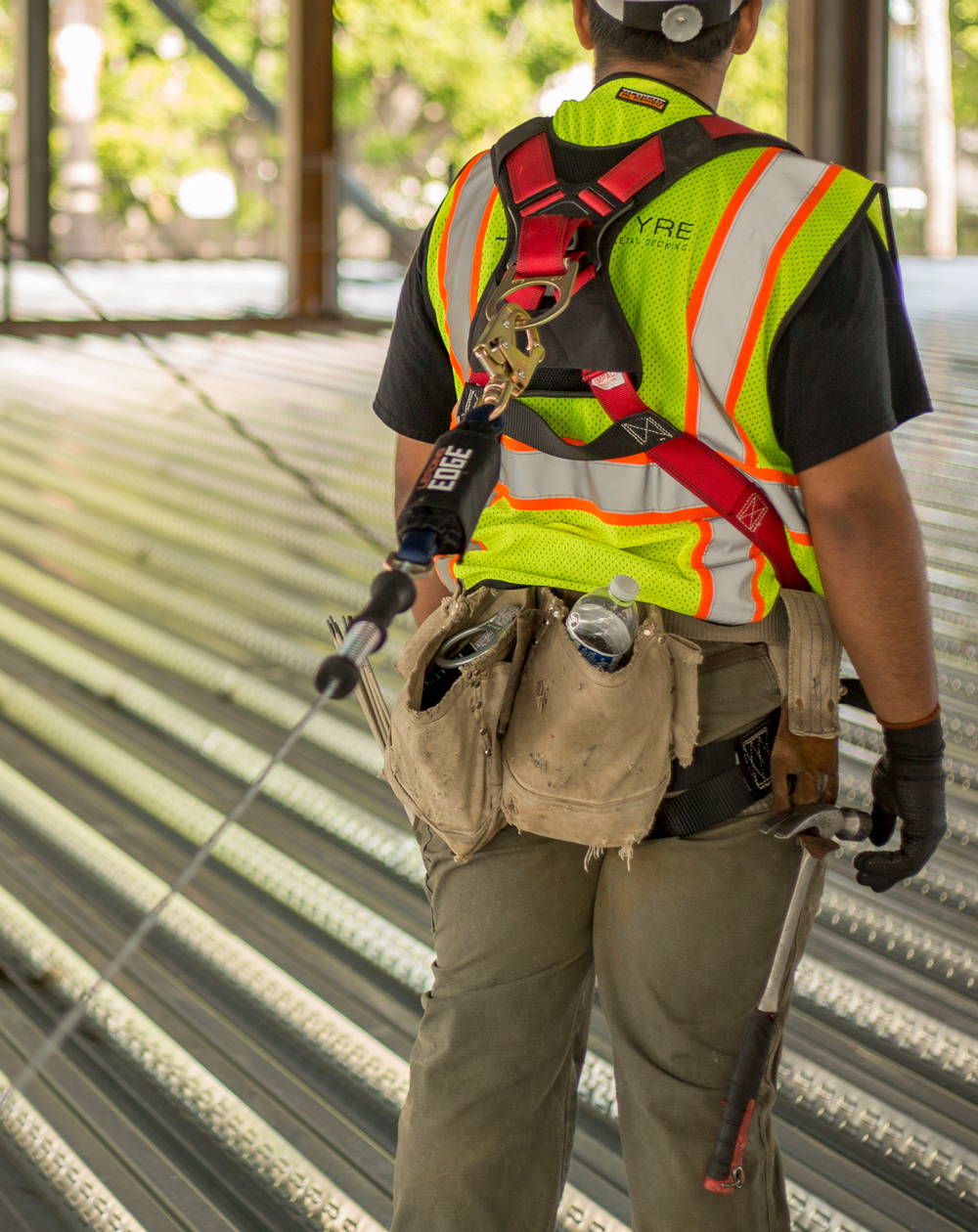 When an overhead anchorage for an SRL is unavailable, foot-level tie-off is a less desirable albeit common anchorage option. However, while changing the anchorage location from an optimal overhead position to the walking/working surface addresses the anchorage issue, it consequently exposes users to another hazard that must be mitigated – the increased fall clearance resulting from an extended free-fall. As such, anchor set-back distance becomes a critical factor to correctly calculate the minimum required fall clearance (MRFC). Set back distance is the measurement of how far back a device is anchored away from a leading edge hazard.
It is advantageous to increase the set-back distance to reduce your minimum required fall clearance. Beyond five feet, there is no difference in performance for ANSI compliant leading edge SRLs. A device set-back five feet will have a significantly lower MRFC than a device that is anchored at the edge. Why is that?
In a zero-foot set-back anchorage location, the fully retracted length of the SRL actively adds freefall distance. Additionally, in order to lock up or activate, SRLs require the device to pay out lifeline at a rate fast enough to engage the pawl mechanism. In a below D-ring foot-level tie-off situation, the device does not begin to pay out until the user has fallen below the level of the anchorage. When the device is set back effectively, that activation begins as soon as the falling worker's D-ring passes the level of the anchorage. In a zero-foot set-back anchorage situation, the activation will not begin until the falling worker's D-ring has passed below the level of the device hanging below the working surface. That additional amount of freefall has a major impact on minimum required fall clearances. A device set-back five feet will have a significantly lower MRFC than a device that is anchored at the edge.
CHECK THESE FOUR ITEMS TO ENSURE A LEADING EDGE SRL IS ANSI Z359.14-2014 COMPLIANT
1. The device is tested in an accredited International Organization for Standardization (ISO) 17025 Laboratory. If you're not sure, ask the manufacturer. FallTech has its own ISO:17025 test laboratory.

2. The manufacturer must produce a Declaration of Conformity per ANSI Z359.7. An end user may also request a test report to verify the performance claims of a manufacturer. While manufacturer's are no longer required to provide these reports as dictated by the 2011 version of ANSI Z359.11, FallTech publishes all of our qualification testing reports with our Declarations of Conformity online.

3. For large SRLs, the SRL must have a permanent energy absorber (shock pack) "integral" to the lifeline of the unit. Accessory shock-packs added after-the-fact to "transform" an SRL into a leading-edge device (SRL-LE) are strictly prohibited.

4. For personal SRLs, where the device is intended to hang on the worker's dorsal D-ring or connect to the full body harness dorsal webbing, the SRL should NOT have the energy absorber integral to the lifeline of the unit, but should instead by on the body side of the unit to appropriately and safely arrest a leading edge fall.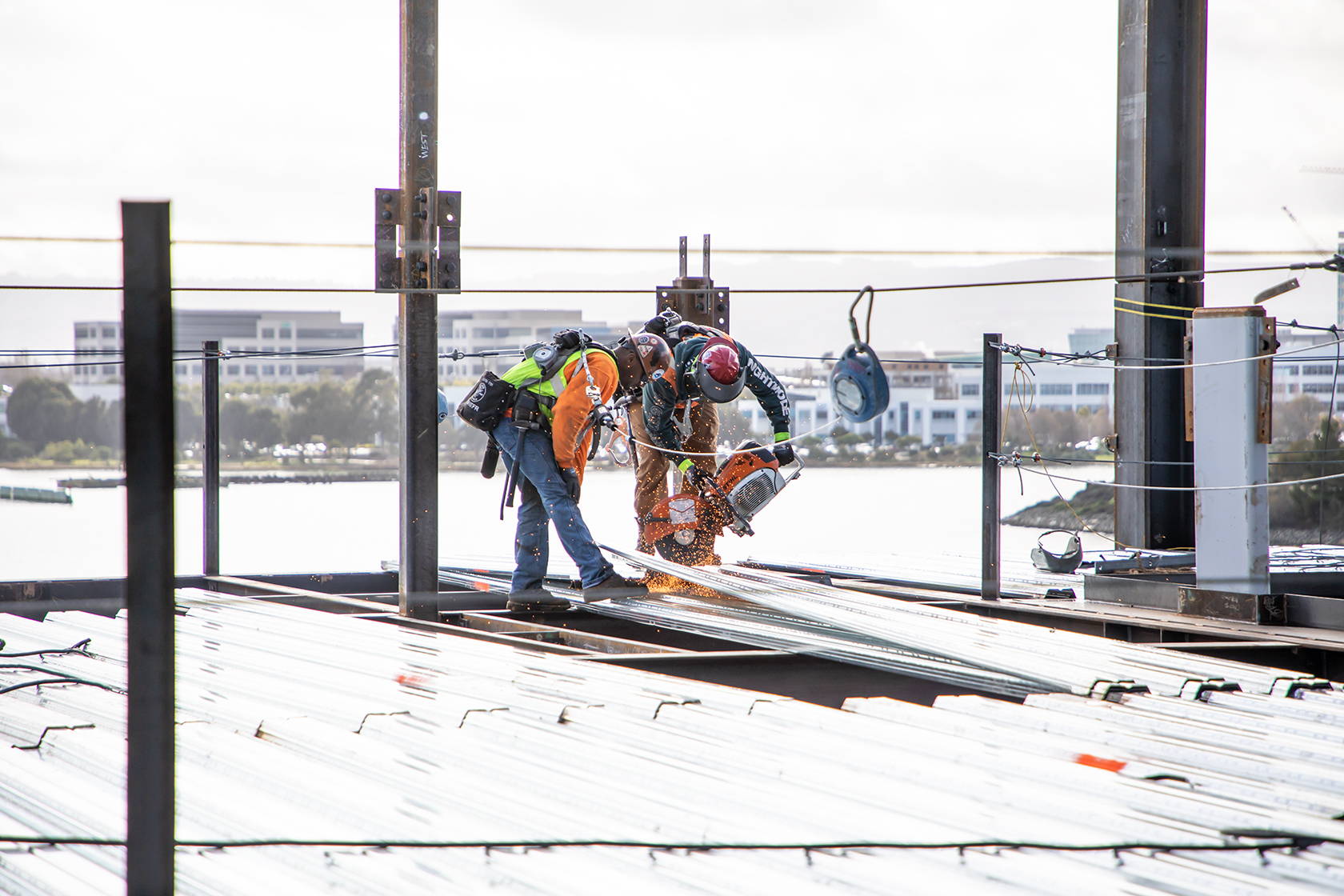 HOW DO OSHA AND ANSI DEFINE LEADING EDGE DIFFERENTLY?
OSHA 1926.751 describes a leading edge as "the unprotected side and edge of a floor, roof, or formwork for a floor or other walking/working surface (such as a deck) which changes location as additional floor, roof, decking or formwork sections are placed, formed or constructed." OSHA is essentially describing an explicit jobsite condition.

On the other hand, ANSI tackles leading edge by authoring a detailed standard that prescribes everything from what is considered a leading edge to precise product performance characteristics and testing expectations of manufacturers who claim their devices meet the Z359.14-2014 standard.
WHY IS ANSI Z359.14 COMPLIANCE IMPORTANT?
Failing to observe ANSI may subject an employer to significant punitive federal and state legal action. Legally speaking, OSHA requires employers to mitigate recognized hazards. As such, ignoring ANSI requirements designed to mitigate specific recognized hazards may increase the risk profile and liability of an employer. And while the ANSI Leading Edge standard is the most stringent in the market, its requirements are captured within the broader mechanical device standard of the ANSI Z359.14-2014. This is a very subtle distinction. In other words, a mechanical device may be marked as compliant to the Z359.14- 2014, yet still be noncompliant as a leading-edge device. That's why it's crucial to know the critical sections of Z359.14-2014 before selecting a product promoted as Leading Edge compliant.
ANSI's Z359.14-2014 DESIGN REQUIREMENTS FOR LEADING EDGE SRL'S
Section 3.3.5 of the ANSI Z359.14-1014 requires that "the line constituent of SRL-LEs shall include an integral energy absorber element adjacent to the end of the line which connects to the body support… If the SRL-LE device housing is intended to be connected to the body support and can only be used in this orientation, then an energy absorber is not required as part of the line constituent." To put it simply, the standard requires leading edge SRLs to have an energy absorbing component connected to the worker's body. Why?
In a leading edge fall event while using an SRL, the line constituent of the device will kink over the edge and will inhibit the performance of any energy absorber on the anchorage side of the now kinked line. If the SRL does not have an energy absorber connected to the body, there will be no energy absorption and the forces will exceed the OSHA regulated 1,800 lb maximum arrest force limit, causing serious injury or death.
An external energy absorber or shock pack on the line constituent is the most easily identifiable indicator that a mechanical device may be leading-edge rated, like a 30-foot or 50-foot SRD. If the unit does not have an energy absorber "integral" to the line (meaning the unit may not be used without it), then it's not a compliant device by default because it is not practical or reasonable to attach a large 30 ft SRL to the dorsal D-ring of a harness, which puts the energy absorber on the body side of the fall. Large SRD devices without a shock pack are not leading-edge devices.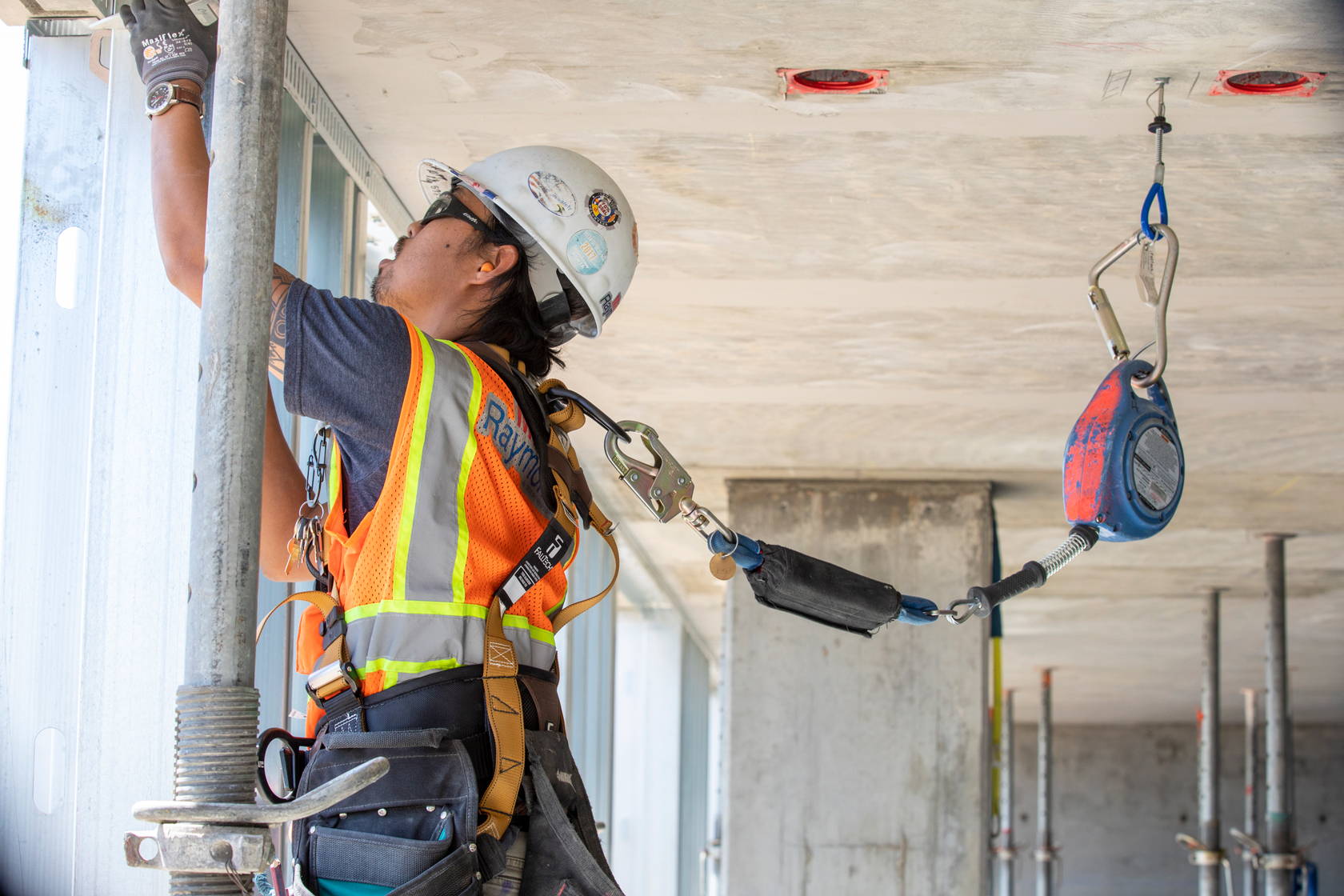 WHAT KIND OF LEADING EDGE DROP TESTS ARE REQUIRED BY ANSI Z359.14 COMPLIANT SRL-LE's?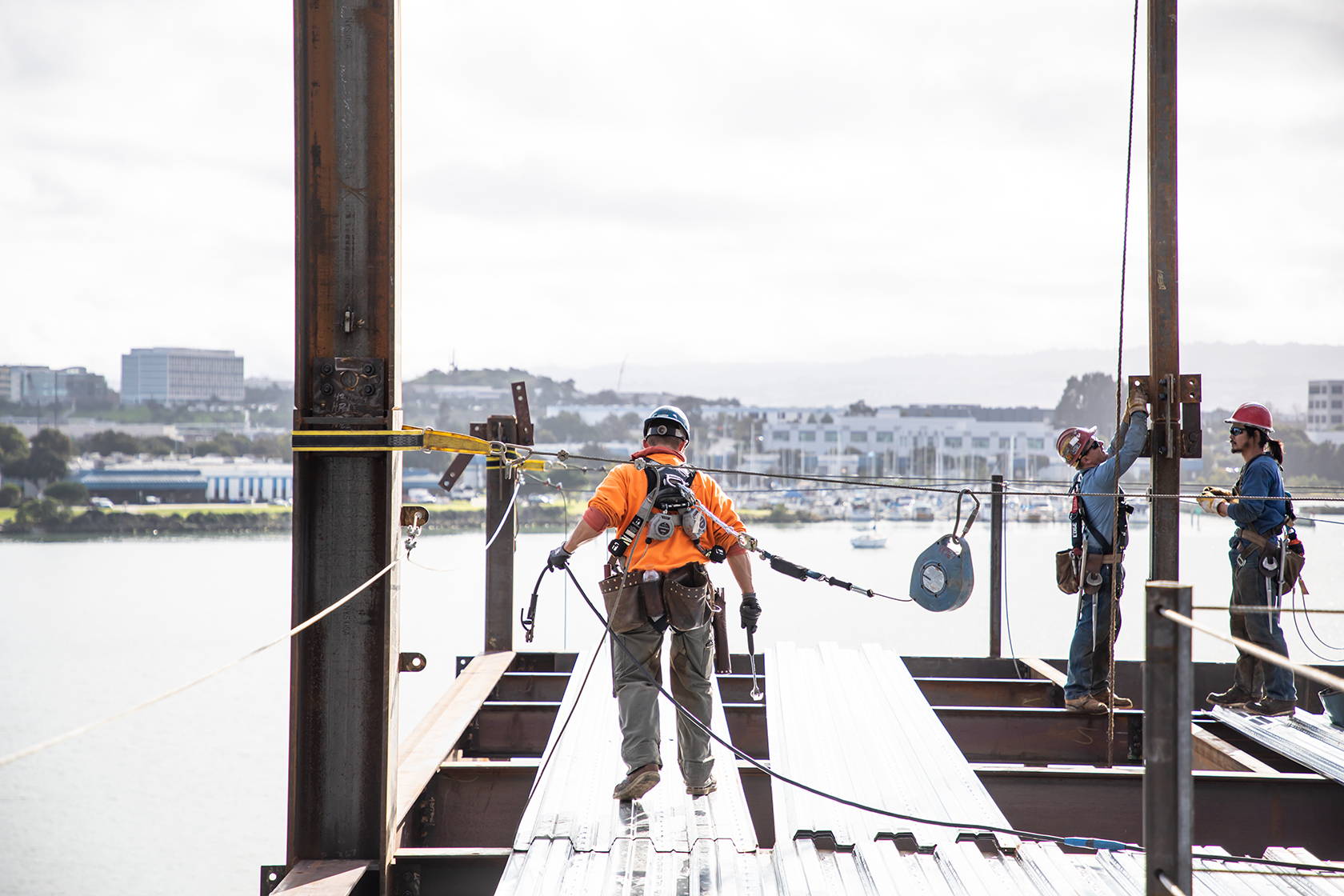 Per the requirements of ANSI Z359.14-2014, two types of leading edge drop tests are to be performed: Dynamic Performance Tests and Dynamic Strength Tests. The Performance test calls for a 282 lb test mass and a 10-second post-fall arrest unrestrained swing, while the Strength test requires a 300 lb test mass and a full 2-minute post-fall arrest unrestrained swing. In the case of the Performance Test, it also requires an additional 675 lb be added post drop.
These tests are performed perpendicular to the edge and with a 5-foot lateral offset. Tests must also be performed for each condition: ambient, hot (130 degrees F with 85% humidity for two hours), wet (submerged for three hours), and cold (-40 degrees F for two hours). Manufacturers may choose to only do Dynamic Strength Tests in all configurations as these tests are more difficult than their Dynamic Performance counterparts but will yield higher minimum required fall clearances due to the extra weight in the drop test. At a minimum, 12 leading edge tests are required for an ANSI Z359.14-2014 compliant SRL-LE.
WHAT SHOULD I CONSIDER WHEN SELECTING SRL'S THAT ARE SAFE FOR LEADING EDGE CONDITIONS?
Ultimately, a product that may technically perform under OSHA's job site definition of Leading Edge may not be the appropriate product to use on every leading-edge job site. An SRD that meets Leading Edge requirements as defined under ANSI Z359.14-2014 remains the gold-standard for leading-edge equipment.
In the end, it is the user's responsibility to vet their equipment for their respective needs. Know the manufacturer, know the equipment, request the testing laboratory credentials or ISO Testing Scope, and demand a test report that validates performance claims for a product meant to save you or your co-worker's life.