FallTech® UniDrive addresses rescue and descent challenges for at-height worksite conditions for construction job sites, construction cranes, cell towers, wind energy turbines, and more.

Compton, California. March 25, 2019 - FallTech®, a U.S. manufacturer of fall protection safety solutions today announced the launch of its new UniDrive Rescue and Descent device solution.
---
"The UniDrive Rescue and Descent device meets the requirement for those responsible for safety and rescue to have a validated, tested, and proven rescue and descent solution. The versatile device delivers not only 150' and 300' self and assisted rescue and controlled descent escape solutions, but also provides vertical work lifting capabilities, too."

- Scott Miller, FallTech Vice President of Sales
---
Designed for overhead anchoring and personal sternal attachment for self and assisted rescue operations, the UniDrive is a complete solution. It is available as a kit, either with a carrying bag or in a sealed barrel. The sealed barrel is ideal for providing a construction crane operator a means of escape and the security tag makes an annual inspection process a breeze.
Versatile Rescue and Descent device:
Provides users with three modes of lift control - hand wheel, telescoping ratchet and power drill mode.



Bi-directional design provides smooth shuttle operation.

Equipped with centrifugal force brakes to ensure a safe constant descent speed.

Kernmantle Rope lifeline resists moisture and abrasion for longer life.

Lightweight forged aluminum connectors for lighter overall weight.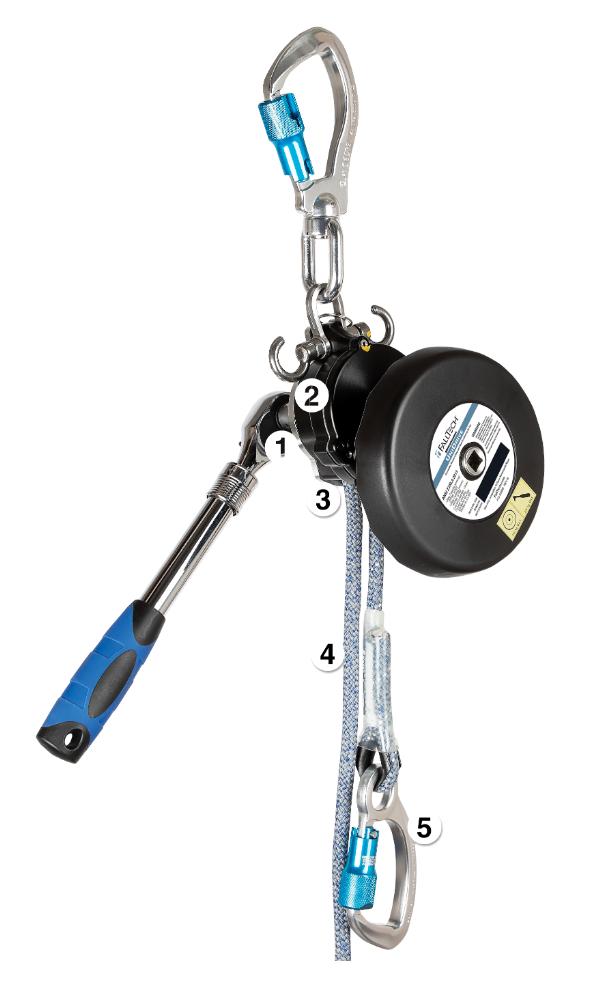 ---
Since 1991, FallTech, a leading U.S. manufacturer, fuses all fall protection safety with technology into state-of-the-art fall protection solutions. With our in-house ISO 17025 accredited test lab, we ensure that FallTech solutions meet or exceed ANSI, CSA and OSHA standards. We are committed to our products performing in the most demanding field conditions, combined with reliable performance, value, and outstanding service.

Whether you need your job site outfitted with fall protection gear or training, our experts make it easy and help you find the right solution. Standards change. Regulations shift, but FallTech's commitment to our customer's safety is rock solid.